Embedded System Beijing Forum, together with China Electric and Electronic Information Corp. , hosted "Embedded System Technology and Industry Development Forum of Southwest China" in Chengdu on July 15th during "2016 China (Chengdu) Electronic Show". Scholars, experts and industry practitioners from southwest China and beyond participated in the seminar, shared their view and thoughts on embedded system technology and industry development in the southwest, and discussed what is next for embedded system innovation in China. As an important post of electronic and information industry, Chengdu has been making new progress under the new incentive of "Advancing intelligent manufacturing, promoting civil-military integration". Chengdu is also one of the starting places of Embedded Software in China, contributing talents and achievements to the industry.
As a non-profit organization, Embedded System Beijing Forum hosts two forums per year, attracting hundreds of participants. Allan He, the secretary in chief indicates that a forum outside of Beijing will loop in more industry practitioners and help with the discussion of the future. Without doubt, the seminar was a boost to embedded system industry in southwest China.
Development of Embedded System: A Better Future Starts Now
Allan He, our secretary in chief hosted the meeting and delivered the opening speech. He shared his experience of embedded system industry of US and Europe, and commented on the recent trend of the industry.
Embedded system industry chain is still keeping its diversity and richness, which is reflected perfectly in Nurnberg Embedded System show, the indicator event of the industry. While automobile and industry automation are the leading areas of Germany Embedded system development, innovation and business venturing in US is leading the change of the way of embedded system development.
Allan mentioned: "Embedded system is right now in the gap between Internet of Things and Maker culture, this is both an opportunity and a challenge for embedded system development. Traditionally, embedded is about chip, module, board, tools, service and operating system, which are the strength of embedded system. But with IoT and Maker in view, communication, cloud and new way of development have all came into play.
Allan also thinks that the new evolution of embedded is on its way. Investors are pushing changes at upper stream with all the big mergers; IoT is raising the importance of security and low energy usage; Maker culture is alternating the way to program and develop.
Energy Consumption of Embedded System: A Rising Topic
Three barriers of computing are parallelism, energy consumption and security. Contrary to many people's belief, IT industry is not very green; it ranks No.5 in terms of CO2 emissions in China, 20% of all. Professor Guo has been doing research in embedded system energy consumption; he was one of the first to advocate for green computing in China. Cloud, communication, endpoints and IoT nodes are major energy consumers. For embedded system, hardware, software and system are the major aspects. Professor Guo and his team focuses on endpoint device – mobile phone, tablet and similar systems to conduct software research, aiming at lowering system consumption by using enhanced management software.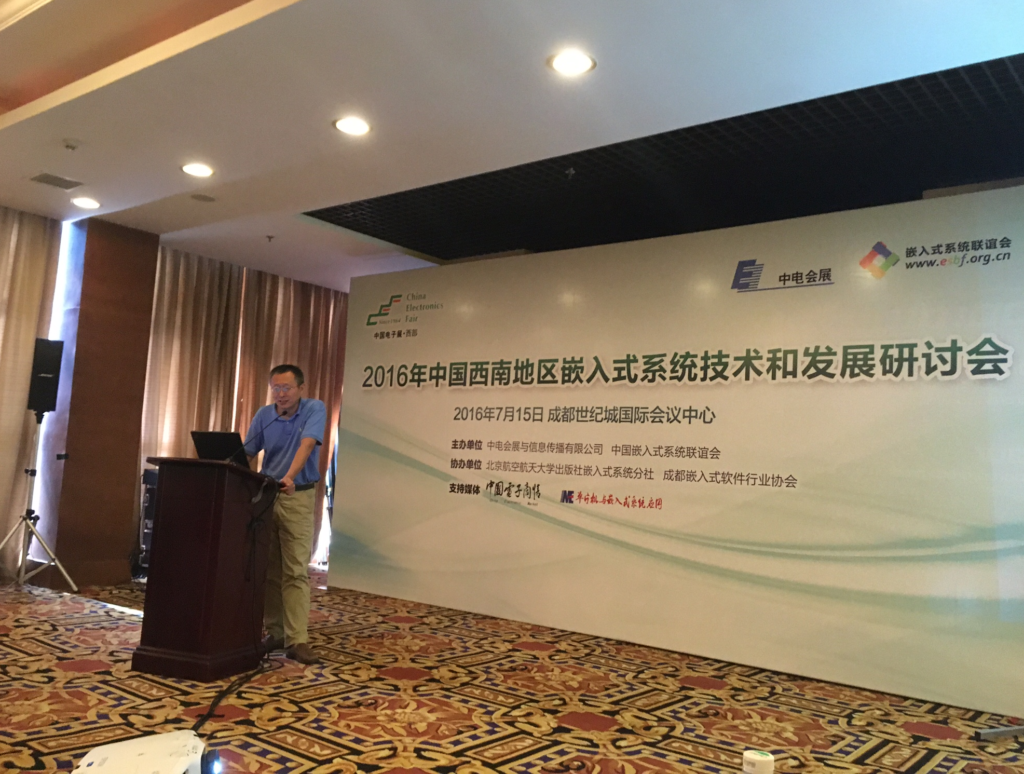 Embedded Operating System in China: Surviving against the Odds
Weidong Zhong, principle engineer of ZTE Chengdu, shared his 30 years of experience of Embedded OS in ZTE. ZTE has been continuously investing on their own OS, which is found in both ZTE's products and many R&D institutes across the nation. In the early years, embedded OS was a monopoly of foreign products, potentially putting information security into jeopardy. During the project of "Communication-oriented embedded software development platform", ZTE utilized open source Linux to solve many difficulties to adapt it for embedded communication system and communication endpoints. Mr. Zhong agrees that the road is very difficult, but the hope of China's embedded operating system is surely in sight.
Pihong Sun, General Manager of Chengdu Skysoft Information Technology, delivered his speech about embedded system and "Internet of Vehicles". Lifeng Geng of ARM Embedded and IoT Department spoke on recent news of ARM, and held a discussion session. Vice president Yinghui Zhang of China Mobile Internet of Things Information and Technology Cooperation then introduced the development of IoT network and platform.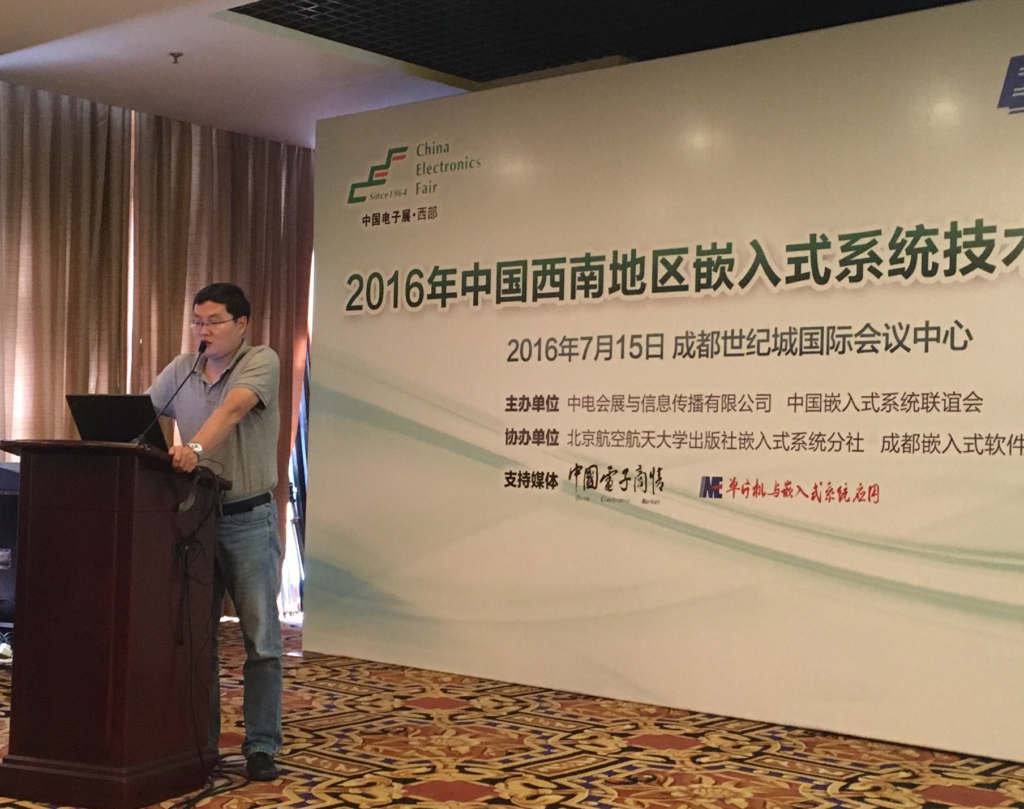 During the discussion phase, Professor Sang of University of Electronic Science and Technology of China, Professor Li of Chengdu University of Information Technology Director Jinsong Yang of Harman Chengdu R&D Center, and representative from BangBang Security freely spoke in the forum on their understanding of embedded technology. There was also a discussion about education and talent recruiting in the field.
EEFocus, one of our cooperating media, sent reporter Miss Zhao to cover the meeting. She also brings the latest FPGA education board from EEFocus for the professors to evaluate (special thank you to her for editing this article). Mr. Hu, vice president of Beihang University Press, out sponsoring and supporting institute, handed out latest embedded system books to the participants.
Keynotes Download
"Introduction of Embedded System Beijing Forum and Recent Industry Trend" – Allan He, Secretary in Chief of ESBF
"Low Energy Software Design in Embedded System" – Prof. Bing Guo, School of Computer of Sichuan University
"The History of Embedded OS –My 30 Years in ZTE" – Weidong Zhong, principle engineer of ZTE Chengdu
"Fundamental Technology and Ecosystem for the Innovation of Internet of Things" – Lifeng Geng of ARM Embedded and IoT Department
"Application of Embedded System in Internet of Vehicles" – Pihong Sun, General Manager of Chengdu Skysoft Information Technology Co. Ltd. and Yinghui Zhang, Vice General Manager of Information Technology Center of China Mobile IoT